La piazza
un patrimonio europeo

Lo spazio della piazza in Europa è patrimonio culturale essenziale nel tessuto delle città, deputato ad accogliere le varie espressioni di rappresentanza del potere politico e religioso, ma anche luogo di partecipazione, aggregazione e socializzazione, oggi come nel passato. Punto chiave del funzionamento della comunità, luogo di incontro e anche di conflitto, è lo spazio più dinamico dell'agglomerato urbano. Durante tutta la storia del mondo occidentale, da agorà a "forum" nell'antichità classica, alle piccole piazze medievali, a quelle subito posteriori dette "piazze mercato", dalla scenografia urbana del Rinascimento e del Barocco, agli spazi pubblici delle città moderne, la piazza si identificava e si identifica ancor oggi con la città alla quale appartiene, divenendo uno specifico spazio storico, sociale, mercantile, complesso e dinamico, portatore di identità. In esposizione 60 piazze dei seguenti paesi: Norvegia, Finlandia, Russia, Svezia, Inghilterra, Galles, Germania, Olanda, Polonia, Belgio, Francia, Repubblica Ceca, Romania, Ungheria, Ucraina, Svizzera, Austria, Italia, Spagna, Portogallo, Slovenia, Croazia, Serbia, Grecia
.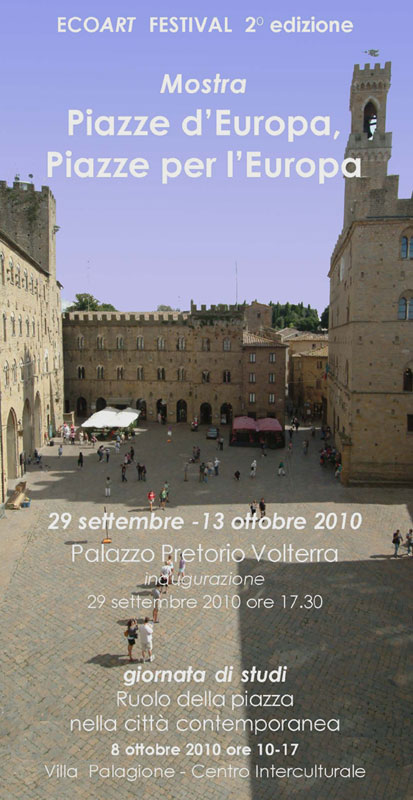 The Square
A European Heritage

Public squares are an essential cultural heritage within the structure of European towns, designated for accommodating the various representative expressions of political and religious power, but also serving as a venue of participation, assembly and socialisation both nowadays as well as in the past. Key point of communal activity, venue of encounter and also of conflict, it is the most dynamic area within urban settlements. From the Agora to the Forum of classical antiquity, from the small medieval town squares to the subsequent so-called market squares, from the urban scenography of renaissance and baroque times to the public spaces of modern towns, the town square during the course of occidental history has been – and still is– identified with the town it is part of, as a specific historical, social, commercial as well as complex and dynamic area. In short: the bearer of urban identity. On exhibition are 60 squares within the following countries: Norway, Finland, Russia, Sweden, England, Wales, Germany,the Netherlands, Poland, Belgium, France, the Czech Republic, Hungary, Ukraine, Switzerland, Austria, Italy, Spain, Portugal, Slovenia, Croatia, Serbia, and Greece.